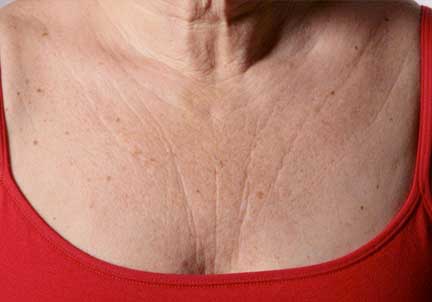 Our chest / décolletage area can give away our age as much as our face , so it is important to look after this area as much as we look after our face.
The décolletage can often age prematurely resulting in crepey skin, age spots, and broken blood vessels.
The skin on the neck and chest is especially thin, making it more vulnerable to sun damage and dehydration which leads to fine lines and wrinkles and brown sun spots. In addition to 'in clinic' corrective procedures it is vital that you wear a high SPF sunscreen to protect your décolletage all year round – even in winter.
The most common chest / décolletage concerns are:
Crepey skin
Lines and wrinkles
Pigmentation
Sun spots / liver spots / brown age spots
Thread veins & Broken blood vessels