Sun damage can appear as dark brown freckles or dark brown / black spots, also known as age spots, liver spots, or pigmentation. They vary in size and are usually found on the areas of the body that have most sun exposure such as the face, chest and backs of hands. Medically known as solar lentigines, these flat brown spots are caused by increased pigmentation as a direct result of too much sun and environmental damage.
Excess pigmentation, or da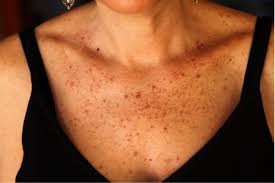 rker areas of skin, can also be related to hormonal imbalances, medically know as melasma or chloasma and can commonly appear in females either taking oral contraception or during and after pregnancy. Pigmentation can also be caused by skin condition such as post acne, cuts, open wounds, inflammation and surgery.
The most common areas of concern are:
Chest
Backs of Hands
Arms
Shoulders
Backs