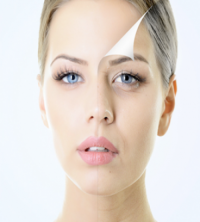 The Blue Peel Radiance is made up of 3 natural acids that give the skin a light superficial peel. It removes dead skin cells to reveal fresh, new, rejuvenated skin.
This treatment can be for an instant skin pick me up, an introduction to the Obagi home care range, or as a course of treatments to target specific skin concerns such as enlarges pores, congestion & fine lines.
Last week some of the team experienced the peel ;
Hayley (aesthetician) :
' My skin received a thorough cleanse then the peel was applied. The peel feels tingly and hot but Charlotte who carried out the treatment very gently tapped my skin for the first 3 minutes, this distracted me from the tingly feeling. 
After 10 minutes the peel was taken off and my skin cooled down instantly. After care products that included Vitamin C, hydrate and SPF were applied.
After the treatment I had some redness but my skin looked glowing and smooth. I was able to use BareMinerals make up to cover any minor redness and carry on my day.
 About 2-3 hours after my skin felt extra smooth & tightened. My make-up went on more evenly & my pores were not as noticeable for around 2 weeks.
I experienced some very light flakey skin around the nose and the top of my cheek bones but that was it. I would definitely have this treatment again, my skin felt brand new.'
Georgie:
' My skin felt instantly smooth with this treatment, I must admit it did feel hot and tingly on the skin at first but the results speak for themselves.
For the rest of the day I had so many compliments from clients on how lovely & glowing my skin was.
I experienced no peeling or flakiness. My skin has been amazing ever since, I cant wait to have my next one.'
This March don't miss savings on the Blue Peel Radiance
One off treatment £50 Saving £25
Course of 3 £135 Saving £60
Course of 6 £250 Saving £130
To find out more & for a FREE skin analysis call us
on 020 8302 6937.