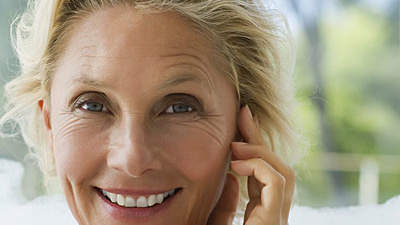 Skin type, genetics and environmental factors such as smoking, sun exposure and skin care all influence the rate our skin ages. If you are looking to correct or prevent ageing you may come across Botox while doing your research.
There is no recommended age to start having Botox unless you are under 18, so ultimately the choice is yours.
As we get older, the effects of ageing mean that lines & wrinkles become static, so they are present all the time regardless of whether we are frowning, smiling or lifting our eyebrows. These lines are now wrinkles so treatment with Botox would be corrective rather than preventive.
Prevention is better than cure as with most anti ageing treatments so opting for Botox in very small doses is a good way to stop expression lines becoming permanent wrinkles.
Botox works by blocking signals from the nerves to the muscles. The injected muscle can no longer contract, which causes the wrinkles to relax and soften. It is most often used on forehead lines, crow's feet (lines around the eye) and frown lines.
At Persona we will ask you to attend a free of charge consultation before you decide on going ahead with any Botox treatment. Only Doctors and Nurse prescribers here at Persona carry out Botox and will give you a conservative dose to start with. We then arrange a check up appointment 2 weeks later and add more Botox if needed free of charge. Results usually take between 3 to 14 days to appear. Our free consultations include a skin scan and analysis to ensure you are getting the very best from your skin and full results duration of any treatments you have.
At Persona we also use Botox for Hyperhydrosis (excess sweating) and the relief of migraines and tension headaches.
Prices start from £175 and new clients receive £50 OFF. Call us on 020 8302 6937 for more information or to book your FREE consultation.