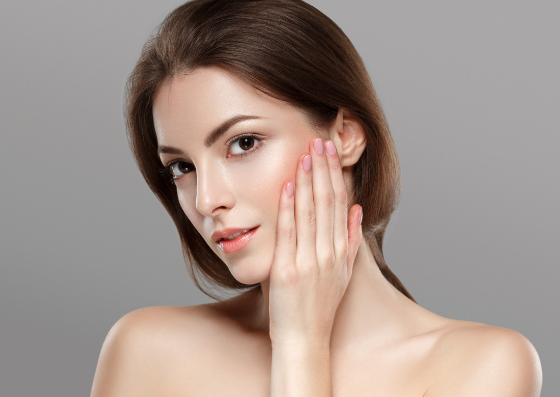 Filling in soft facial tissue to correct defects has been a medical procedure for over 100 years. The practice was first introduced by Austrian surgeons who used paraffin wax with mixed results. These days, the application of it involves injecting hyaluronic acid under the skin to smooth out wrinkles reliably, predictably and safely using reputable dermal filler.
This non-surgical treatment is so effective at achieving a facial rejuvenation that from 2015 onwards it has been the second most popular cosmetic treatment in the UK, with thousands of customers so pleased with their new look, they return to their clinics every 6 months for a top up. The experienced practitioners here at our clinic in Dartford use a less is more approach and have many years of experience in applying it. For a safe, efficient and natural-looking boost to your looks, dermal filler could be the answer.
What is hyaluronic acid and how does it work
Hyaluronic acid is a glycosaminoglycan which occurs naturally in the neural tissues. In the body, its prime function is to thicken certain fluids, lubricate connecting skin tissues, protectively coat cartilage and aid tissue repair.
When it is injected under the skin for aesthetic purposes, it soaks up water like a sponge and creates a cushioning effect to give the outward appearance of the skin more volume. Our skin thins in line with our collagen production reducing in our advancing years, so plumper skin makes us look younger.
This treatment is very safe and not just because the administering of it and materials used have been developed over many years. The fact the substance is already present in the body means you're extremely unlikely to suffer an allergic reaction to it.
What can dermal fillers treat?
Dermal fillers are ideal for adding volume to thinning skin and smoothing out prominent facial lines on the lower face. They can successfully add volume to the cheeks, significantly reduce smokers lines, nasolabial and marionette lines (the lines that run from the nose to the corners of the mouth and from the corners of the mouth to the chin respectively), as well as provide an effect that is akin to a full facelift, only without any surgical intervention or downtime needed.
The other very popular use of dermal fillers is to add volume and shape to the lips. Our lips also thin with age, so having plumper lips can turn back the clock on our appearance by several years.
Please get in touch with our team here in Dartford to book your initial consultation. That's when we'll talk you through the treatment process and give you a good idea of what to expect. Dermal fillers don't take very long to administer and the results are almost immediate. You're still in time to treat yourself to a younger-looking, more rested appearance before New Year's Eve! Then, once you've achieved your rejuvenation and you're happy with your look, the effects will last for up to 6 months, at which point you can book a top up treatment to maintain the new, more youthful you.