Shedding excess weight on the stomach can often be tricky and sometimes no matter how good our diet and exercise regime, we can be left with small stubborn areas such as love handles and lower parts of the tummy, that are difficult to break down.  This is primarily due to the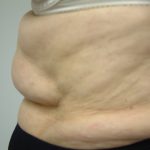 area the fat is stored and the circulatory systems inability to reach these areas effectively and break down the fat as a normal part of the metabolic process.
Woman and men can also develop stretch marks, often the result from rapid weight gain or loss, rapid growth, or caused by hormonal changes due to puberty or pregnancy.  They are caused by the skin being overstretched, therefore preventing the skin's elastic fibers from returning to their normal size.
The most common concerns for the stomach are:
Love Handles
Stretch marks
At Persona Medical Aesthetics, we believe in taking a personal yet professional approach to help you achieve the results you're looking for. During your free consultation, we will advise on facial areas we can target to help maximise the anti-ageing effects. You will have the opportunity to ask any questions and go through any details you are not sure about.