As we age lines and wrinkles appear around the eyes known as 'crows feet' or 'smile lines', the brow area may droop & the eyelid become heavy and saggy. We can also lose volume under the eye around the lower socket, also known as the tear trough, giving the appearance of dark circles, and the general skin condition can become thin and crepey, which can make us look and feel old and tired. Volume can also be lost in the brows, which exposes the upper orbital rim, giving the face of more skeletal appearance.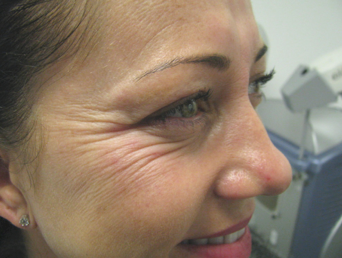 Most clients seeking treatment for the eye & brow area are looking to reduce lines prevent the appearance of wrinkles that deepen as we age, and rejuvenate the area to make us look fresher and more awake.
The most common concerns for the eyes & brows area are:
Crows feet / smile lines
Hooded upper eyelids
Heavy / drooping brows
Eye bags
Under eye hollowing
At Persona Medical Aesthetics we offer an extensive range of procedures that can significantly help reduce lines around the eyes, lift brows, reduce dark circles, and volumise the under eye socket (tear trough) area. We believe in taking a personal yet professional approach to help you achieve the results you're looking for. During your free consultation with a medical practitioner and aesthetician you will have the opportunity to ask any questions and go through any details you are not sure about and we will advise on facial areas we can target to help maximise the anti-ageing effects.