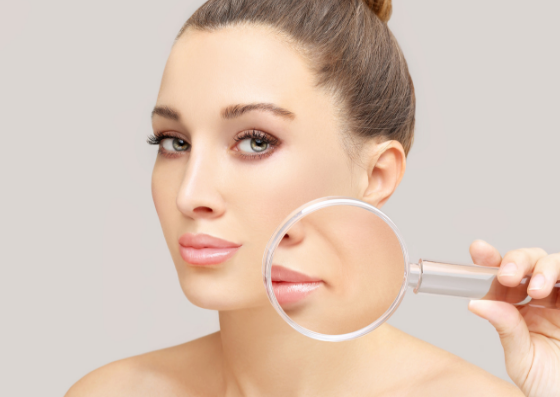 We all want healthy, glowing, radiant skin this Christmas, don't we? Who wouldn't! The winter weather can be tough on our skin and therefore really detract from our skin's hydration. Weather-beaten skin can appear tired, dull, and generally a little lacking in vibrancy, so we'd recommend tailored skincare and skin treatments to best boost your Christmas glow. One of the treatments we'd like to introduce to you is laser skin resurfacing! But, what does it do and how does it work?
What does laser skin resurfacing do?
Laser skin resurfacing is a treatment that is specifically designed to remove the uppermost layer of skin that is often made up of dead, dying, and damaged skin cells. These skin cells can block your pores and stop the healthy layers of skin beneath shining through, so they stifle your skin and make it appear dull. Laser skin resurfacing uses radio frequency energy to penetrate to deeper layers of the skin, targeting both the top layer of dying skin cells and prompting the production of new ones in one treatment.
How does this treatment work?
The radiofrequency waves deliver controlled energy to the top layer of skin and the deeper layers. The top layer is damaged, encouraging the skin to produce skin cells and shed this damaged layer. This positive skin cell turnover ensures that we are replacing what we lose, helping bring about healthier and younger-looking skin. When this energy reaches the layers beneath the superficial skin layer, it causes some minor tissue damage. This is nothing to worry about, though! This minor skin injury is controlled enough to stimulate the production of fibroblasts and collagen, two proteins essential to new, healthier, and firmer skin cells. This means that a mini skin injury is encouraged to bring about full skin renewal, bettering a dull complexion and softening some visible signs of ageing in the process too.
Laser skin resurfacing treats
Volume loss – the fresh production of collagen and fibroblasts assists in adding laxity, firmness, and bounce to ageing skin.
Fine lines and wrinkles – these same skin proteins help with thinning skin, lessening the appearance of wrinkles through firm new skin.
Dull or tired skin – dead skin cells are shed before ushering in a new layer that is bright, young, and fresh.
Enlarged pores – the skin of the stretched pores is damaged and shed, helping to resurface these tiny pits from the inside layers outwards.
Hyperpigmentation – uneven skin tones are tackled by shedding the damaged pigmented skin and replacing it with a newly generated layer of skin cells.
Is laser skin resurfacing safe?
These treatments are entirely safe and effective when performed by trained and qualified professionals. You should not opt for this treatment if you are unsure of whether the practitioner has training and experience in this area. There are some minor side effects, but these are normal and nothing to worry about. Side effects may include swelling, redness, and a 'crust' may form. These should all disappear after 4-5 days, but of course our qualified practitioners will provide you with all the aftercare advice you need at your initial consultation.
Laser resurfacing is a safe and effective treatment for reviving worn skin. Find out more today and even book your first appointment when you enquire online or speak to a friendly member of the team on 0208 302 6937.