Warts & Verrucas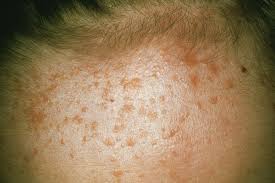 Warts & Verrucas are a type of skin infection caused by the human papillomavirus (HPV). The infection causes rough, skin-colored bumps to form on the skin. The virus is contagious. You can get warts from touching someone who has them. Warts most commonly appear on the hands, but they can also affect the feet, face and knees.
What are Warts & Verrucas?
Warts are noncancerous (benign) rough bumps that form on the skin. They develop when the human papillomavirus, or HPV, enters a cut or break in the skin and causes an infection.
Who might get Warts & Verrucas?
People with autoimmune disease or weakened immune systems, including the elderly, are more susceptible to the virus that causes warts.
What are the types of warts?
Wart types vary depending on the affected body part. Types include:
Hands: These warts are called common warts because they are the most common type.
Face: Flat warts affect the face and forehead.
Feet: Plantar warts appear on the soles of the feet. These warts look like calluses with tiny black dots in the centre. They are often painful and form in clusters.
Periungual and subungual: These warts form under or around fingernails and toenails.
What causes them and are they contagious?
When the human papillomavirus (HPV) enters a cut in the skin, it causes a skin infection that forms warts. Warts are very contagious. The virus can spread from person to person or from different parts of the body through:
Direct contact with a wart.
Touching something contaminated with the virus, such as towels, door knobs and shower floors.
Sexual intercourse (genital warts).
Nail biting and cuticle picking.
Shaving.
What are the symptoms?
Warts vary in appearance. They may look:
Dome-shaped.
Flat.
Rough.
Skin-coloured, brown, grey or black.
How are warts managed or treated?
Warts often go away on their own after your immune system fights off the virus. Because warts can spread, cause pain and be unsightly, we recommend:
Freezing: During a procedure called cryotherapy, your doctor applies liquid nitrogen to freeze the wart. After freezing, a blister forms. Eventually, the blister and wart peel off. You may need several treatments.
*We can only treat clients over the age of 18.