Hyperhidrosis(Excessive Sweating)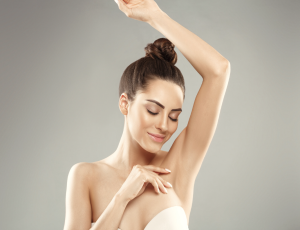 Excessive sweating, medically known as Hyperhidrosis, can be a common condition. The excess sweating can be more than the body needs in order to regulate its temperature. Therefore it is often uncontrollable and can cause social embarrassment and can severely affect confidence.
Sweating can often happen without warning or reason. This can cause anxiety which leads to a vicious cycle. As the anxiety of getting sweaty, often leads to increased sweat production.
Hyperhidrosis can be treated by injecting Botulinum (Botox) into the sweat glands around the nerve endings. This inhibits the sweat gland. Temporarily blocking the chemical signals from the nerves that stimulate the sweat glands. However the treatment will only work on the areas of the body that have been injected.
Areas we commonly treat:
Forehead
Top lip
Under arm area
Scalp
Palms
Soles of the feet
What are the benefits of botulinum toxin injections?
The benefit of this treatment is that it can reduce, and in most cases stop sweating. Results can last between 6 to 12 months. This can improve your confidence and social life.
What will the treatment feel like?
You may find the injections uncomfortable but most people do not describe the treatment as painful. Your medical practitioner may prescribe you some local anaesthetic cream to numb the area being injected.
Preparing for botulinum toxin injections
Please wear a sleeveless top for your treatment appointment. You may prefer to wear dark colours as your skin will be marked with ink that may stain your clothing.
 If possible please remove any underarm hair before your appointment, as this will make it easier for the Doctor/Nurse giving the injections.
Why choose Persona?
At Persona Medical Aesthetics, we believe in taking a personal yet professional approach. During your free consultation, we will advise on what to expect from your treatment. You will have the opportunity to ask any questions and go through any details you are not sure about.