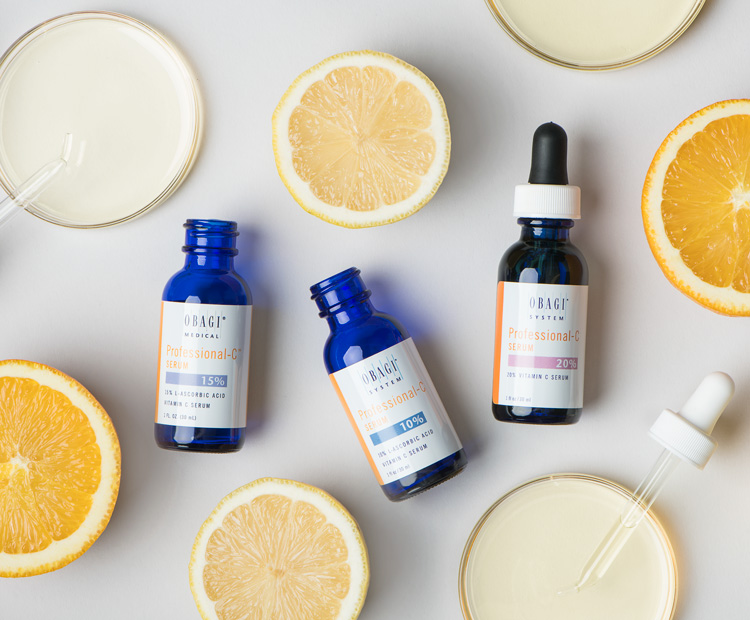 It's as easy as 1, 2, Vitamin C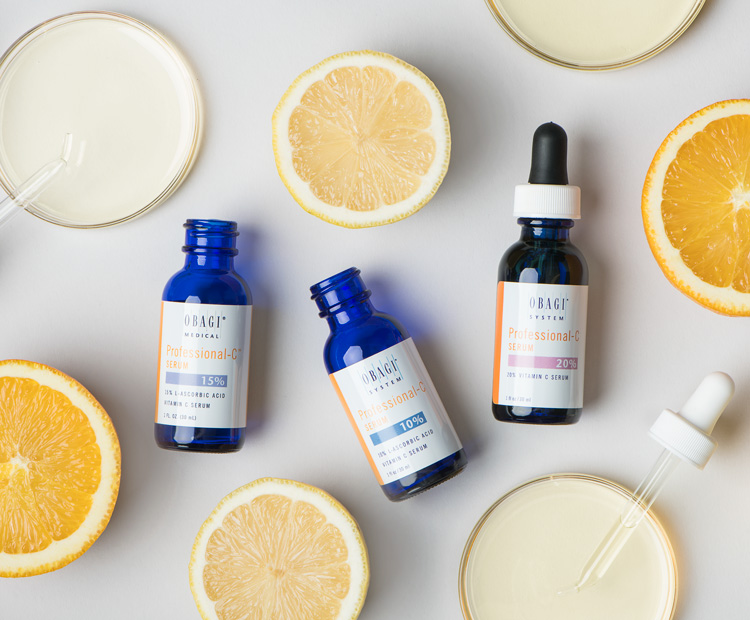 You are one step closer to achieving a brighter, more youthful complexion, it's as easy as 1, 2, Vitamin C.
Here are our most asked questions on why a Vitamin C should be added into your skin care routine.
What result can I expect from a vitamin C serum?
Answer: Vitamin C is essential for a healthy body, therefore essential for healthy skin and hair. It's a potent antioxidant that can neutralise free radicals, such as those found in environmental pollutants and after exposure to ultraviolet radiation. A vitamin C serum can do various wonders for your skin. Therefore the most noticeable benefits are the following:
Even skin tone; diminished dark spots
Reduced appearance of fine lines and wrinkles
Brighter skin overall
Why does Obagi prefer L-ascorbic acid over other forms?
Answer: Not all forms of Vit C are created equal, and there are many derivatives on the market. Obagi uses L-ascorbic acid because it is known to be the most bioavailable (most absorbed by your skin) and thus most efficacious form.
Why do Obagi Vitamin C serums come in different concentrations (10%, 15% and 20%)? What's the difference and who should use which?
Answer: There are three percentages of L-ascorbic acid available in the Obagi Professional-C product line. However a higher concentration isn't necessarily better than a lower concentration; the difference is in intended use.
Question#4: How should we use Obagi's vitamin C serum for best results?
Answer: Your Vitamin C serum should be used in the morning and/or evening after cleansing, and possibly exfoliating and toning the skin in a more comprehensive routine. Apply five to seven drops to the face, neck and chest using fingertips. Always apply Obagi vit C to cleansed skin before makeup and sunscreen application. Here's how to incorporate it into your skin care routine:
1: Cleanser or scrub
2: Exfoliator (this step might be included in your cleanser if it's also exfoliating)
3: Toner
4: Serum, such as the Obagi Professional-C Serum products (AM/PM, or AM only if using a retinoid at night)
5: Retinol (PM only)
6: Moisturiser and Eye Cream
7: Sunscreen (AM only)
8: Makeup
Question#5: What ingredients work best with Vit C? 
Answer: We recommend using a broad-spectrum sunscreen in conjunction with a vitamin C product like the Professional-C serums because the protection from the sunscreen will work in tandem with the antioxidant benefits derived from vitamin C. Also, using a vitamin C exfoliator will help enhance the benefits by promoting deeper penetration for absorption.
Lastly, when used in combination with retinol, apply vitamin C in the morning and retinol at night.
Question#6: Can you get too much Vit C? What happens when you apply too much, or too strong a concentration?
Answer: L-ascorbic acid is appropriate for all skin types. We do recommend choosing the appropriate concentration to meet your skin's specific needs.
Our Pro-C serum 10% is designed for dry, irritated or sensitive skin, Pro-C Serum 15% is designed for combination skin/most skin types and Pro-C serum 20% is best suited for normal-to-oily skin.
Question#7: How should we store our Vit C serums to maintain potency?
Answer: The shelf life of L-ascorbic acid is typically three to four months after opening, but can be shorter if exposed to light, air or heat for long periods of time. Keep the container securely closed when not in use. Storing your Obagi Professional-C Serum in a cool, dark area, such as a refrigerator (not freezer), may help to prolong its shelf life.