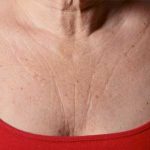 Our chest / décolletage area can give away our age as much as our face , so it is important to look after this area as much as we look after our face.
The décolletage can often age prematurely resulting in crepey skin, age spots, and broken blood vessels. Lack of collagen is one of the biggest factors behind chest wrinkles formation. As we get older, our bodies naturally produce less collagen. When skin gets thinner, less elastic and more prone to wrinkles, it's usually due to a lack of collagen.
The skin on the neck and chest is especially thin, making it more vulnerable to sun damage and dehydration which leads to fine lines and wrinkles and brown sun spots. In addition to 'in clinic' corrective procedures it is vital that you wear a high SPF sunscreen to protect your décolletage all year round – even in winter.
The most common chest / décolletage concerns are:
Crepey skin
Lines and wrinkles
Pigmentation
Sun spots / liver spots / brown age spots
Thread veins & Broken blood vessels
At Persona Medical Aesthetics, we believe in taking a personal yet professional approach to help you achieve the results you're looking for. During your free consultation, we will advise on facial areas we can target to help maximise the anti-ageing effects. You will have the opportunity to ask any questions and go through any details you are not sure about.