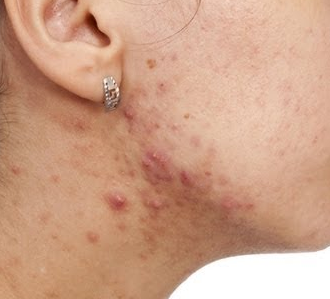 Acne is a very common skin condition characterised by comedones, papules and pustules (blackheads, white heads and pus-filled spots). It usually starts in puberty but can also occasionally persist and even suddenly become a problem for men and women in later years.
Acne is caused by excess oil being produced in the sebaceous glands and dead skin cells not being able to shed properly. The bacterium that causes acne lives on everybody's skin, not normally causing a problem, but with problematic prone skin it is an ideal environment for this bacterium to multiply. This triggers inflammation and the formation of red and pus-filled spots. Most common areas prone to acne are the face, the chest and the back.
Here at Persona we can offer a variety of acne treatments to start your journey in improving your skin. We believe in taking a personal yet professional approach to help you achieve the results you're looking for. To ensure we select the best facial  or medical grade skincare for your skin type and concern we invite you for a complimentary Observ 520 skin scan and consultation. The scan takes 6 photographic images of your face all under different lights to reveal underlying conditions and possible damage not seen with the naked eye. We can then determine the most beneficial tailored treatment plan for you.
Our expertise and experience allows our aestheticians to combine our facial therapies ,as well as recommending a tailored home skincare regime to achieve incredible long lasting results.