TRANSFORM YOUR SKIN WITH FACIALS & NEEDLING.

At Persona Medical Aesthetics we offer Facials and Needling to transform your skin.
From dull complexion to acne there are facials or needling treatments to help with many skin concerns. Below are the different facials & needling treatments that we offer.
Obagi Medical Facials
We are proud to be an Obagi Medical® ambassador clinic. Our team are highly experienced in the Obagi product range. Obagi Medical Facials target specific skin concerns to boost skin health, therefore improving overall complexion.
Obagi Medical Facials use Obagi medical skincare and as a result it will significantly improve acne, signs of ageing, sun damage, and pigmentation.
The Obagi Medical Facials we offer are:
Clenziderm Acne Facial: – designed for clients who have oily skin and prone to breakouts. Can also be used for acne breakouts on the back.
Age Defying Facial: – designed for clients who have fine lines and wrinkles. It will rejuvenate your skin so it feels fresher and firmer.
Vitamin C Facial: – designed for skin with visible sun damage and photo-ageing. This facial exfoliates, refreshes and revitalises the skin.
Blue Peel Radiance:-  a unique salicylic acid blend designed to give a gentle yet effective peel. Results in tighter, smoother, brighter looking skin. This will be noticeable from the first treatment. Can also have to target back acne.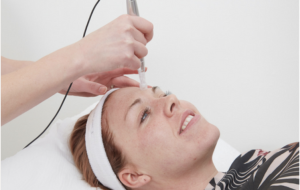 Medical Microneedling .
Skin Micro-needling has been around for many years. It comes in many different forms of treatment and boasts effective and reliable results. The main goal of any Micro-needling treatment is to stimulate collagen and elastin production in the skin that has slowed due to damage, injury or the natural ageing process.
The treatment works by intentionally creating a series of tiny little 'wounds' in the skin's surface. Therefore stimulating the skin to regenerate and repair itself naturally by producing new collagen and skin cells.
What are the results?
brighter
younger
healthier looking skin.
What can Mirconeedling help with?
acne scaring
stretch marks
pigmentation
lax skin.
Resulting in your skin becoming firmer and regains its elasticity. Fine lines and wrinkles are visibly reduced, pores become finer, circulation is stimulated and the overall condition of the skin is improved.
HERE AT PERSONA MEDICAL AESTHETICS WE ALSO OFFER MICRO-NEEDLING FACIAL WHICH IS THE ENDOCARE GROWTH FACTOR FACIAL.
The Endocare Growth Factor Facial is an invigorating and intense collagen boosting facial.  Therefore it will help stimulate collagen production in three ways to physically and visibly rejuvenate ageing skin.
The 3 ways are:
1. Endocare growth factors
Endocare products are packed full of a powerful and unique growth factor complex called SCA BioRepair. They are clinically proven to induce powerful collagen production. Endocare® Concentrate, a luxurious growth factor serum and Endocare hydrating Gelcream mask are used within your facial. This will give your skin the ultimate growth factor boost!
2. Micro-needling surface skin renewal
Micro-needling surface skin renewal both stimulates and regenerates the top layer of your skin. It will create an effective delivery system to infuse the skin with Endocare® Concentrate growth factors.
3. Lift and sculpt massage
A lift and sculpt facial massage increases the flow of oxygen and nutrients through your skin.  This results in clearinng away toxins, whilst helping work the Endocare® growth factors even deeper into your skin.
Taking facial treatments to the next level. This powerful, results driven facial is the perfect treatment for skin with visible signs of stress, ageing and sun-damage.  It is ideal if you're looking for a radiant, smoother complexion with no pain or downtime.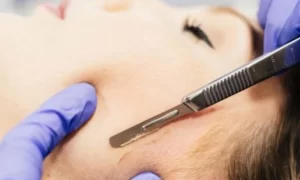 Dermaplaning
Dermaplaning is a skin treatment that uses an exfoliating blade to skim dead skin cells and hair from your face. It's also called microplaning or blading.
Dermaplaning aims to make your skin's surface smooth, youthful, and radiant. This treatment can help to remove deep scarring from acne and uneven pockmarks on your skin. It's also used to remove "peach fuzz," the short, soft hairs on your face.
This treatment can be used for any skin type and anyone with:
acne scars
dull skin
dry skin
sun-damaged skin
fine wrinkles
Recommended for all skin types, we find that clients with sun damage, fine lines, and dry skin all benefit from our this treatment.
There's no downtime apart from a little redness afterwards. Our aestheticians also recommend that care is taken in using Heliocare SPF products after Dermaplaning.
You're in safe experienced hands with us.
At Persona Medical Aesthetics we take a personal yet professional approach.  We will help you achieve the results you're looking for. We'll ensure we select the best facial for your skin type and concern. We will invite you to attend a complimentary skin analysis and consultation, before having your treatment. We can then determine the most beneficial tailored treatment plan for you.