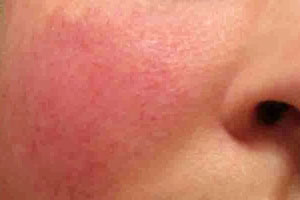 Rosacea (Skin redness) is a skin condition characterised by facial redness and sometimes pimples. Rosacea typically begins as redness on the central face across the cheeks, nose, or forehead, but can also less commonly affect the neck, chest, ears, and scalp. In more chronic cases additional symptoms, such as semi-permanent redness, small red bumps, red gritty eyes, burning and stinging sensations, and in some advanced cases, a red lobulated nose, may develop.
Rosacea can occur in both men and women and typically symptoms appear in our 30's-50's. Women are more commonly affected than men due to hot flushes caused by menopause, however, it is often less severe in women than in men.
Triggers that cause episodes of flushing and blushing play a part in the development of rosacea. Exposure to extreme temperature can cause the face to become flushed as well as strenuous exercise, severe sunburn, stress, and anxiety. There are also some food and drinks that can also trigger flushing, including alcohol, caffeine, and spicy foods.
The most common concerns for Rosacea are:
Frequent flushing
Redness
Small lumpy spots
At Persona Medical Aesthetics, we believe in taking a personal yet professional approach to help you achieve the results you're looking for. To ensure we select the best facial for your skin type and concern we invite you for a complimentary Observ 520 skin scan and consultation. The scan takes 6 photographic images of your face all under different lights to reveal underlying conditions and possible damage not seen with the naked eye. We can then determine the most beneficial tailored treatment plan for you.