Dermal Fillers & Lip Fillers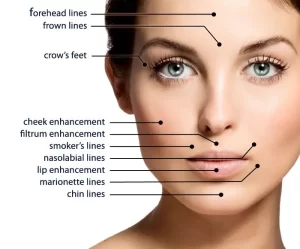 Dermal Fillers and Lip Fillers at Persona Medical Aesthetics are a clinically proven, highly effective treatment. Similarly they are used to smooth out facial lines and wrinkles. Dermal fillers create fuller or more defined lips and enhance facial contours. Like wise such as cheeks, chins and jawlines. Above all they are a popular treatment choice with our clients because of their versatility and the immediate results.

Fillers are most commonly used to treat;
Nose to mouth lines
Fine lines around the mouth
Improve lip shape and volume
Lift out mouth to chin lines
Create the effect of cheekbones, and give volume and lift and shape the face.
Tear Trough
Volumising Fillers
Volumising Fillers have revolutionised the way in which skilled medical practitioners can use Dermal fillers.   It is scientifically proven that Filler placed in certain areas of the face will deem someone more attractive. Therefore still looking like themselves. This is called the Golden Ratio. Our medical experts here at Persona Medical aesthetics have many years of experience in this area of Volumising filler. Most importantly they are trained in the most advanced and latest of techniques.
Our complete contour packages can enhance:
Cheeks
Chin
Jawlines
Nose
Lips
They are extremely safe and virtually painless when administered by a trained and experienced medical professional.
Lip Fillers
Lip fillers and Russian lips have become increasingly popular. Meanwhile they are a quick and easy way to add plumpness and volume to your lips. Our skilled medical practitioners can add volume, definition, and fullness to your individual lip shape. However, in reality most people want their lips to look very natural but a little fuller and/or more defined.
Lip fillers can treat:
Thin lips
Uneven/asymmetrical lips
Downturn smile
Lip lines/smokers lines
Dry, dehydrated lips
The Russian technique will shape the lips into a subtle heart shape with more volume near the centre, much like a Russian doll. Meanwhile it tends to lift the lip rather than add excessive volume. Therefore being ideal for lip filler newbies or those wanting a natural finish. You will also notice a flatter appearance as height is the goal, rather than plumpness. (Although both can be achieved if that is what you desire!)
Non surgical Rhinoplasty
Non-surgical nose job or nose reshaping treatment is also known as ' 15 minutes Nose Job '. The non-surgical nose job is done by injecting fillers to the nose. Most importantly this helps the shape of the nose to look more aesthetically without surgery. The tip of the nose can be lifted and the curvatures of the nose can be smoothed with nose filler injections. Therefore it is possible to return to daily life immediately after the non-surgical nose job treatment.
Tear Trough
The tear trough is a hollow area that is located directly under the eye. The area starts at the inner corner of the eye and runs diagonally down towards the cheek and outer eye. Therefore if the hollow is deep set it can appear darker or give the appearance of a shadow under the eye. However hollow tear trough can be hereditary, caused by excess weight loss, medication, or as apart of the natural ageing process. The dark appearance can cause the face to look tired and older. Similarly a hollow tear trough can be smoothed out by strategically injecting dermal filler to restore volume. Tear trough filler is injected through the cheek using a cannula or needle to reduce minimise the risk of bruising or swelling. In addition, Nucloefill can be an alternative for tear trough filler.
Why choose Persona?.
We believe in taking a personal yet professional approach. During your free consultation you will have the opportunity to ask any questions. Going through any details you are not sure about. We will advise on facial areas we can target to help maximise the anti-ageing effects.
Our skilled medical team also use Dermal fillers to smooth frown and forehead lines, elevate and shape the brow, lift and plump facial contours and reduce lines and creases on the décolletage.