Profhilo

What is Profhilo?
The first of its kind, Profhilo® is a revolutionary 'beneath the skin' hyaluronic acid moisturising treatment. When injected into skin, Profhilo® stimulates the skin cell receptors to counteract skin laxity. Therefore improving and restoring skin firmness.
The patented technology remodels ageing and sagging tissue. Consequently smoothing wrinkles rather than 'filling' them by saturating skin cells in hyaluronic acid. Effectively stimulating production of both your natural collagen and elastin to renew your skin from within.
The most common areas of treatment include:
face
neck
décolletage
hands
arms
knees
abdomen
The treatment is suitable for men and women as well as offering skin benefits for patients of all ages.
Restylane Vital Hydrating Skin Booster.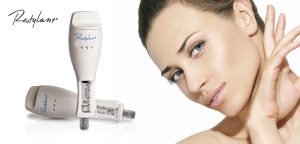 Whilst Dermal fillers replace volume to specific folds, lines and wrinkles. Hydrating Skin Boosters work to treat the overall condition of your skin. The treatment provides essential hydration to promote skin health, tone and elasticity. Whilst topical creams only temporarily moisturise the surface layers of the skin. Hydrating skin boosters deliver intense moisture into the deeper layers. Meanwhile Skin boosters will target dehydrated crêpey areas such as:
the face
neck
décolletage
back of hands.
Restylane Vital has natural hydrating properties, like Profhilo, is a fine filler treatment. Therefore it will improve skin hydration, firmness and luminosity. Micro-injections of a very soft hyaluronic acid filler is injected into the skin and is clinically proven to prevent fine lines from forming.
Skin boosters are ideal for clients who want to act on the first signs of ageing. Consequently improving the overall condition of the skin.
Why choose Persona? 
We believe in taking a personal yet professional approach. Helping you achieve the results you're looking for with Profhilo. During your free consultation you will have the opportunity to ask any questions and go through any details you are not sure about.  We will advise on facial and body areas we can target to help maximise the anti-ageing effects.
Our skilled medical team also use Profhilo to rejuvenate the neck, chest and backs of hands. Historically, the neck has always been difficult to treat, however, Profhilo is a major breakthrough as it can lift sagging skin on the neck and reduce that crepey skin texture we get as we age.